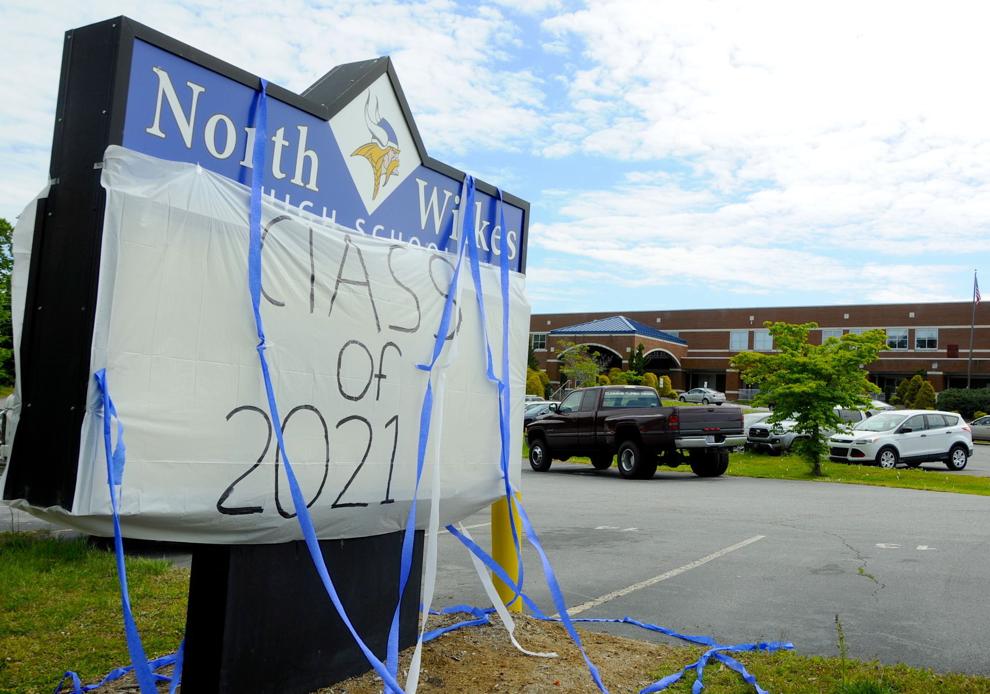 The Wilkes County high school class of 2021 has often been denied normalcy during the pandemic, but graduation ceremonies for 651 seniors Friday will be closer to normal than recently planned due to Gov. Roy Cooper easing COVID-19-related restrictions on May 14.
Cooper lifted all mandatory capacity and gathering limits, social distancing requirements and most mandatory mask requirements.
This resulted in Wilkes Community College's Walker Center becoming the venue for the Wilkes Early College High School's graduation ceremony instead of WCC's Watson stage amphitheater, said Principal Michelle Shepherd. The change was made late last week. This ceremony starts at 6 p.m. Friday.
Shepherd said that due to WCC's COVID-related guidelines being eased, there is no limit on the number of guests allowed in the Walker Center. Initial plans were to limit attendance at the Watson amphitheater by issuing eight guest tickets per student. Shepherd said masks are still required indoors and social distancing is still recommended.
Masks are also required for all attending East Wilkes High's outdoor graduation ceremony, said Dr. Chad Mann, East principal. Principals of the other three Wilkes high schools said masks are recommended but not required at their graduation ceremonies.
East Wilkes, West Wilkes, North Wilkes and Wilkes Central will still have their graduation ceremonies in their football stadiums, although West Wilkes and North Wilkes ceremonies are usually in their school gyms. Starting times are 8 p.m. Friday at North, Central and West and 6 p.m. Friday at East.
North Wilkes Principal David Johnson and West Wilkes Principal Amanda Pruitt said seniors at their respective schools will be issued six guest tickets apiece as initially planned.
What's new is that people with tickets will be allowed to enter North Wilkes High's Raner Wiles Stadium between 7 and 7:40 p.m. and West Wilkes High's stadium between 7 and 7:30 p.m. People without tickets will then be admitted to Raner Wiles Stadium until its capacity is reached, when admission will end. People without tickets will be admitted to the West Wilkes stadium starting at 7:30 p.m. and continuing until its capacity is reached.
Dr. Dion Stocks, Wilkes Central principal, said the biggest change at his school's Wes Steele Stadium is that each graduating senior will receive 12 tickets instead of the eight initially announced. Stocks said families will still be asked to sit together in the stands during the event.
There were never any plans to limit admission to East Wilkes High's graduation ceremony at Ebb Tharpe Field. Dr. Chad Mann, East principal, said this is possible because of the number of graduates at East Wilkes and the school's "reversed" seating plan. "This will provide room for more guests and allow us to be more precautious," he said.
Mann explained that graduating seniors will sit on the home side bleachers, with teachers sitting on either side of them and everyone socially distanced. He said family members and friends will sit in chairs they bring on the football field, socially distanced and facing students.
The Wilkes Board of Education on April 5 approved Wilkes School Superintendent Mark Byrd's recommendations for near-normal graduation ceremonies, which included holding them outdoors if possible. Capacity limits, face masks and social distancing were required under Cooper's order at that time.
Last year, Wilkes high school seniors graduated one at a time with only immediate family members and a couple of school officials present due to the COVID-19 pandemic.
Unofficially, 651 seniors at the five high schools are graduating. This includes 168 at Wilkes Central, 167 at West Wilkes, 159 at North Wilkes, 108 at East Wilkes and 49 at the early college high school.
East Wilkes High School
East Wilkes has 108 graduating seniors.
Student speakers for East Wilkes High's graduation ceremony are Kandis Shore, welcome; Dylan Ward, introduction of special guests (Rudy Holbrook, Wilkes school board, and Wilkes School Superintendent Mark Byrd); Jacob Spriggs, introduction of the East Wilkes Senior Madrigals; senior class president Brianna Martin, address; Mikayla King, address; and Haley Graham, closing remarks. Counselors Tosha Mathis and Bethany Hamby will present the senior class. Mann will present the diplomas.
Mann stated, "I am so proud of the Class of 2021. I am excited that this group will get to have a traditional graduation ceremony. This is a great group of young people. They have endured a lot and now they get their reward. This group will represent our school and community well! Thank you to all the parents, grandparents and guardians who have made this moment possible for our students. Congratulations to the East Wilkes High School Class of 2021."
East Wilkes counselor Tosha Mathis said, "The class of 2021 could be considered small but mighty with 108 graduates. This class has 38 students who will be recognized as honor graduates, including eight in the category of Summa Cum Laude, seven Magna Cum Laude and 23 Cum Laude. They also accumulated $70,000-plus in outside scholarship monies, not including any monies students accepted directly to their college of choice."
Mathis said several East Wilkes students plan to attend four-year universities, but the vast majority are taking advantage of the new Education Promise Scholarship at Wilkes Community College. Some are entering the workforce and a few are considering the military. "No matter what their choice for post-secondary, I feel this group of individuals will be successful and leave a legacy as they have persevered like no other group."
North Wilkes High School
North Wilkes High has 159 graduating seniors.
Student speakers at North Wilkes High's graduation ceremony are senior class president Cali Johnson, welcome; Stacie Shumate, introductions; McKenzie Johnson and Zachary Carlton, reflections; and Elby Royal, farewell. Principal David Johnson will share comments before diplomas are presented. Other speakers are Hardin Kennedy, Wilkes school board member; and Seth Prevette, chief financial officer of the Wilkes schools. The Northanders will sing "Omni a sol."
Johnson said "It is amazing to think about the hurdles that have been overcome to get to this point. The Class of 2021 should be extremely proud of themselves, and they should see the past 14 months as proof that they can overcome any obstacle put in their way. They have been tested and they have come out stronger than before. This is a fantastic group of young people who will be successful throughout life."
North Wilkes High counselor Glenn Miller said the North Wilkes Class of 2021 stands out for obvious reasons related to COVID-19 closures.
"One thing I find extraordinarily remarkable is that every single senior that started school with us in August 2020 will be graduating on May 28, 2021, besides eight transfers." These eight students included four students who transferred out of state, three to other schools within Wilkes and one who never returned from summer break for the senior year of school.
"Not only does this show the resilience of our students, but also the compassion and hard work of our teachers who helped them get to graduation," he said.
Miller said a large number of seniors at North Wilkes are taking advantage of the new Education Promise Scholarship at WCC.
West Wilkes High School
West Wilkes High has 167 graduating seniors.
Student speakers at West Wilkes High's graduation ceremony are Katelyn Cothren, welcome; Evan Hamby, senior class president; Tyler Gambill, student body president. Other speakers are Amanda Pruitt, principal; Joan Caudill, Wilkes school board member; Dr. Donna Cotton, chief academic officer of Wilkes Schools; and Kelly Allison, West Wilkes science teacher. Assistant Principal Jennifer Sorel will help Pruitt give out diplomas. Emily Holman, Halah Sprinkle, Haylie Ogle, Ashlyn Shumate and Madi Roland will sing the national anthem.
Pruitt stated, "It is my honor to celebrate the 2021 graduates this year. They have experienced constant change since the spring of their junior year and they have endured! Throughout the last 10 months, students have worked remotely and in-person to accomplish the goal of becoming high school graduates."
Pruitt said that with fortitude and strength, this year's graduating class faced many obstacles the pandemic put in their path. "I know that the adversities they have worked to overcome this year will continue to help them in the future. Congratulations to the West Wilkes High School Class of 2021!"
West Wilkes counselor Stephanie Stone stated, "I am so proud of the Class of 2021. They are bright, resilient and hardworking. We recognized that this year hasn't been ideal, but they have persevered and exceeded our expectations. I wish them all the best."
Wilkes Central High School
Wilkes Central High has 168 graduating seniors.
Student speakers for Wilkes Central's graduation ceremony are co-senior class presidents MaryAnna Bailey and Tate Jolly, welcome; student body president Jonah Brooks, introduction of guests; Noel Pratt, senior class remarks. Dr. Dion Stocks, principal, will share congratulatory remarks and present the Class of 2021. Other speakers are Kirk Walker, Wilkes school board member, and Dr. Westley Wood, assistant superintendent of Wilkes schools.
Thomas McNeil will sing the National Anthem. Ronald Adams, Erik Garcia, Triston Johnson, Michael Morris and Colby Wilson from the Wilkes Central Air Force Junior ROTC will present the colors. Senior members of the Chamber Singers, Cotara McCurdy, MaryAnna Bailey, Sheridan Bullis, Lacy Shrader, JoRaye Morrison, Jonah Brooks, Thomas McNeil and Tate Jolly will lead in singing the alma mater.
Dion Stocks said the school has been blessed to have such a wonderful group of strong, spirited and academically focused students in the Class of 2021. "They are truly the epitome of the green and gold spirit. They have tremendous leadership skills all throughout the group, which will be a tremendous asset to our community in the future. Our staff has thoroughly enjoyed working and teaching these young men and women. Their impact on our school will be felt long after they move forward with their lives. We wish them nothing but the best and much success," said Stocks.
Wilkes Central counselor Kelly Wise said, "This graduating class of 2021 is very special to me because this year's seniors were my first year's freshmen. I've watched these students grow and mature over my past four years here, and I've been amazed at their transition into adulthood. These seniors have persevered through some tough times, with the pandemic ripping some important high school rites of passage, like traditional prom and football pep rallies, away from them. But these students have stepped up and stepped out, and I couldn't be more proud of them! My once freshmen eaglets are now full-grown seniors who are ready to take on the world. I look forward to watching them take flight from the Eagle Nest here at Wilkes Central."
Wilkes Early College High School
The Wilkes Early College High has 49 graduating seniors.
Student speakers at the early college high school's graduation ceremony are Vanessa Chaquea and Iliana Grandados. Principal Michelle Shepherd will also speak.
Shepherd stated, "In the words of Dr. Seuss, 'Sometimes you never know the value of a moment until it becomes a memory.' This class has left a lifetime of memories in the halls of Wilkes Early College and the streets of Wilkes County. Through their many hours of volunteerism and selfless acts, they will never be forgotten. I look forward to the continued changes they will make in the world. Congratulations to the WECHS 2021 graduates."
Wilkes Early College counselor Sarah Winebarger said, "This class of graduates is full of amazing human beings. Even with the challenge of a worldwide pandemic, their dedication to their community and their personal goals did not waiver. I will forever remember how they welcomed me into the WECHS family with kindness and I'll miss the fun conversations and jokes we shared through our Connections class. I am proud to extend my congratulations to the WECHS Class of 2021!"