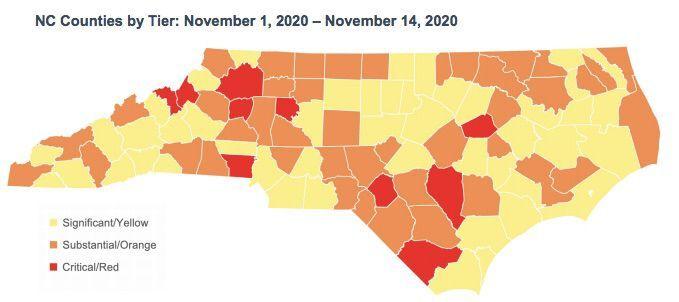 Wilkes County remained in the forefront of a COVID-19 surge this week after being included early last week on a list of 10 North Carolina counties with "critical community spread" of the virus.
Wilkes and the other nine counties were singled out for having high COVID-19 transmission levels in a new alert system announced by Gov. Roy Cooper and N.C. Department of Health and Human Services (DHHS) officials on Nov. 17.
The state officials urged counties with high transmission levels to enforce the governor's mask mandate and limits on numbers of people together indoors.
"We may have to do more even on a statewide level or at a local level in some way," Cooper said that day. "The decision has not yet been made, but we are hoping that this effort can help us slow the spread."
Among counties listed with "critical community spread" on Nov. 17, Wilkes ranked fourth in new COVID-19 cases per 100,000 in the prior 14 days with 574.5 cases. Alexander was first with 914.7 and Avery was eighth with 427.2.
The N.C. Department of Health and Human Services will reassess counties each month and release an updated report the second week with a state map showing counties colored red (critical community spread), orange (substantial community spread) or yellow (significant community spread).
In addition to new cases per 100,000 people in the prior two weeks, each county's rating is based on its percentage of COVID-19 tests coming back positive and COVID-19's impact on the county's primary hospital. This impact is determined by number of COVID-19 hospitalizations, number 0f staffed hospital beds available, critical staff shortages and COVID-19-related visits to emergency departments in the prior 14 days.
In the first alert system report, Wilkes was listed with "low" hospital impact and 10.5% of COVID-19 tests coming back positive the prior 14 days.
On Sunday, Wilkes was still among the top 10 counties in the state in numbers of new cases per 100,000 in the prior two weeks with 612.
The Wilkes County Health Department reported Friday that Wilkes had 276 active cases out of 2,441 Wilkes residents who tested positive for COVID-19 since the pandemic began in March. That was up from 2,198 a week earlier on Friday, Nov. 13.
The health department reported Friday that 29 of the 276 active cases were hospitalized, mostly at Wilkes Medical Center. Wilkes had 47 COVID-19-related deaths by Friday, more than any adjoining county.
"We want to work with these counties to see if we could lower the spread with the recommendations that we have in place now," said Cooper on Nov. 17. "Right now, those recommendations don't include travel restrictions."
In addition to urging enforcement action, state officials asked government leaders in the 10 "critical community spread" counties and 44 counties with "substantial community spread" to consider ending alcohol sales earlier than the current 11 p.m. deadline in place statewide.
Cooper said North Carolina isn't faring as badly as other states, although new cases per day, hospitalizations and positivity rates are at their highest levels yet. "What we're trying to do is reenergize the people of our state," he said.
According to DHHS, individuals in red and orange counties should limit mixing between households and minimize the number of people in a social circle. They should avoid settings where people congregate.
If patronizing restaurants, they should order take out and/or eat outdoors while socially distanced.
DHHS said individuals at high-risk for developing serious illness should stay home as much as possible, reduce public interactions to essential activities like going to work or school, caring for family members, buying food, getting health care or picking up medications.
DHHS said business and community organizations in red and orange counties are strongly encouraged to implement teleworking if feasible and cancel non-essential work travel.
The should also promote the "Find My Testing Place" website to employees and require that all employees participate in "Count on Me NC" training.
Manufacturing, construction and food processing companies and farms can request consultations from DHHS on reducing workplace transmission by calling 919-707-5900.
DHHS said community and religious organizations should avoid having more than 10 people at in-person, indoor meetings or worship services. Churches are exempt from limits on crowd sizes.