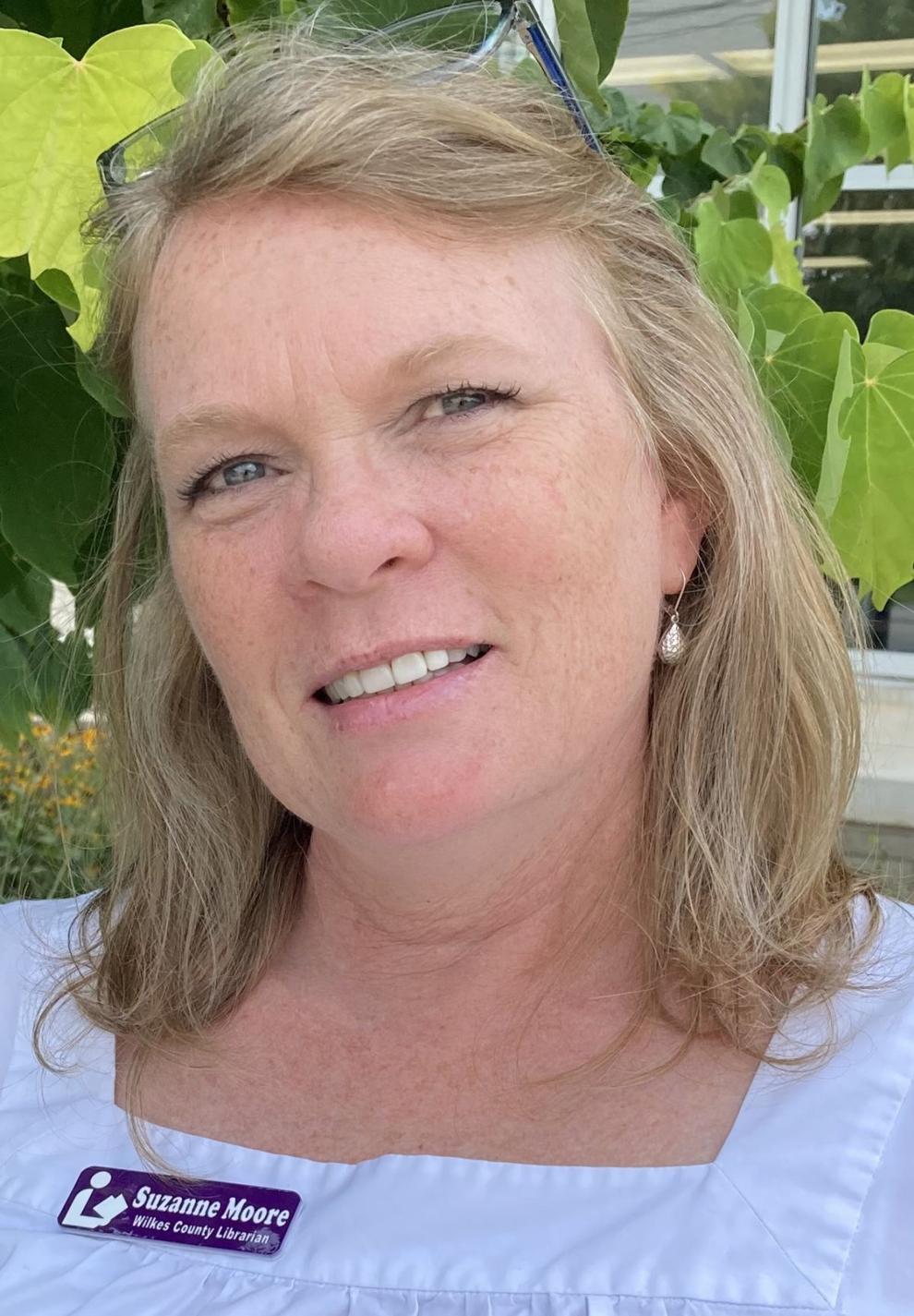 Suzanne Moore, serving as Ashe County librarian the last nine years, has been named Wilkes County librarian.
Moore's first day in her new position was July 19. Aimee James, Wilkes County librarian since late 2018, resigned in April to take a public library position in Southern Pines.
Moore said it's an honor to be asked to work with the talented and dedicated Wilkes library staff. The Wilkes County Library has 18 employees and one person works at the Traphill Library.
"I plan to be a hands-on librarian and work closely with my staff on their yearly individual work and development plans. Together, we will meet the challenge of making the Wilkes Library the gateway and centerpiece of our community," she said.
Moore added, "I have had a regional connection to the Wilkes library while serving as Ashe County librarian for the last nine years, and already know what a wonderful place this library is." Public libraries in Wilkes, Ashe and Watauga counties are in the Appalachian Regional Library system.
When asked about challenges she perceives as the new Wilkes librarian, Moore said likely foremost is finding time and resources to accomplish goals and objectives. She said being in a regional library system helps address this by sharing costs and resources, which benefits Wilkes citizens.
Jane Blackburn, director of libraries for the Appalachian Regional Library, said Moore's experience as Ashe County librarian is a big plus. "Needless to say, she knows how the region works and the requirements and responsibilities of a county librarian. Suzanne has successfully managed library programming, library staff, budgets and relationship building in the community."
She said Moore has demonstrated abilities to produce programs that engage the community, forge good relationships with peers and peer organizations and work as part of a team. She has an extensive professional network, outgoing personality, boundless energy, is creative and communicates well verbally and with the written word, added Blackburn.
A Wilkes librarian search committee consisting of Blackburn, three Wilkes Library Advisory Board members, a Wilkes library staff member and a library patron agreed to advertise locally in the Wilkes Journal-Patriot and on the library website for job applications. It also was advertised through the State Library of North Carolina job site and through state library associations in Virginia, Tennessee, South Carolina and Georgia.
Among 17 people who applied, the committee decided to interview three who seemed most qualified. Blackburn said that after each was asked the same questions via Zoom, the committee met and decided to forego in-person interviews since Moore was clearly the top candidate.
In addition to her tenure as Ashe librarian, Moore has ties to this area through her father, Robert Busic, born and raised in Alleghany County. She often visited her grandparents, Leonard and Lois Busic, in Sparta while growing up. "I love the old-time music of these mountains and, as an amateur plucker, have an informal group called Molasses Jam. I am hoping to assemble a library jam band in the future, and am excited to meet local musicians in Wilkesboro."
Moore grew up in Gloucester County, Va., (Chesapeake Bay area), married after high school and moved to Nashville, Tenn.
"My journey to become a professional librarian wasn't realized until much later. Along the way I raised four children, while working a variety of jobs and going to college.
After graduating from Austin Peay University in Clarksville, Tenn., with degrees in interdisciplinary studies and early childhood education in 2000, she worked as a middle school language arts teacher in Robertson County, Tenn., for several years. She taught for three more years at a junior high in Van, Texas, after moving to Grand Saline, Texas (where her husband was from) in 2004.
"I left teaching to join the library world when I took a job managing a small rural library in Mineola, Texas, and began graduate studies at the University of North Texas. In 2010, I completed requirements for a Masters of information and library science degree, and moved to North Carolina to work as Ashe County librarian in 2012."
A public library is like a "University for the People," said Moore. "Growing up, I guess you could say the love of libraries was in my blood. My mother took us to get books from the library every week, and my grandma was a children's librarian in Maryland."
Moore said she expects to emphasize library programming and community engagement in Wilkes. "Previously, I have worked with library staff to develop local and regional programming that raises awareness and highlights issues on various topics. She said these include financial literacy, healthy eating, compassion and the power of giving, understanding war and crossing cultural boundaries, mental health, substance misuse and social justice.
Moore said she likes to find ways for readers to become involved and experience literature. "With theme-related featured selections, guest authors, and involving activities, I truly believe the power of books can connect and change lives. I want to emphasize whole-person wellness in a variety of programs that will provide something for everyone…. Learning together is one way of sharing and building community.
As Ashe County Librarian, she worked with community groups and students to document stories of local veterans. This became an annual project and inspired a monthly veterans' reading group, "The Talking Service Book Club." Moore said she plans to expand this across the Appalachian Library region.
"I also have a great love for reading and writing and will be sharing my reading adventures with a monthly, published book review. I would like to extend the invitation to all readers, and anyone who may be curious, to join me in my personal goal of reading the most recommended books: '1001 Books You Must Read Before You Die.' "
Moore said her immediate goals as new Wilkes librarian are focused on getting to know the community and its library partners. She enrolled in the Wilkes Chamber of Commerce's Leadership Wilkes to learn more about the county.
The Wilkes Journal-Patriot asked Moore what makes a good county librarian.
She responded, "I think a good county librarian is someone who knows what their communities and county citizens are interested in (local history and current trends). A good librarian can also help make connections to their collections with what is happening in the world both near and far. This helps to encourage users to make discoveries and realize there are many possibilities and opportunities to take advantage of. Lifelong learning is a service priority.
"It is also important to reach people who might not use or understand the value of the library. Sometimes libraries might seem to be an intimidating place. A good county librarian serves people not only in the library but outside the library too. Sharing your talents and experiences is one way of being approachable. Librarians need to be welcoming and arrange opportunities for fellowship and enrichment.
"Much of the work a good county librarian is involved in happens outside the office. Partnering with organizations and businesses in multiple ways will promote diversity, inclusion, and equality for everyone. Libraries are for everyone. You may have heard before that 'libraries are the heart of the community.' I think that should be flipped to say 'the community is the heart of the library.' A good librarian keeps the heart beating."