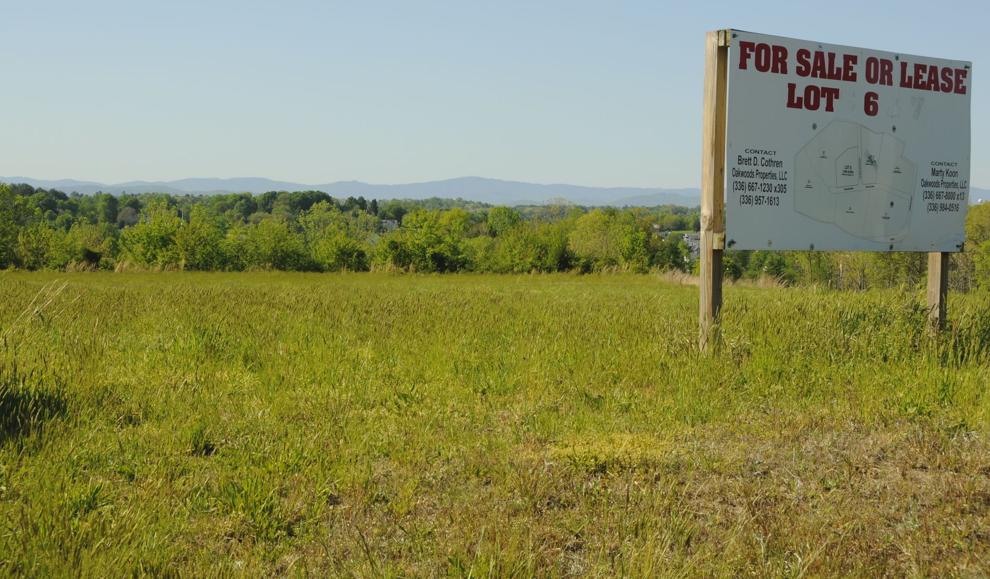 The Wilkes County commissioners approved disbursing $5.16 million in unanticipated additional sales tax revenue during their April 20 meeting.
The funds exceed what county government was expected to get by the end of February, based on revised fiscal 2020-21 sales tax revenue projections. Sales tax revenue received from the state is always two months behind, so the county's total beyond February isn't known yet. The fiscal year ends June 30.
The commissioners unanimously approved a budget amendment disbursing the $5.16 million on April 20, which Wilkes County Finance Director Chris Huffman said brought sales tax revenue as of the end of February in line with the amount budgeted.
Under the approved budget amendment, $275,000 goes for the county's purchase of three acres from Oakwoods Properties LLC, with Brett Cothren as member-manager. The graded parcel is at the intersection of Courthouse Drive Extension and Executive Drive in Wilkesboro, adjoining the county-owned Wilkes Agricultural Center parcel. Nothing was said about plans for the land when the purchase was unanimously approved earlier in the meeting. County Manager John Yates said later that it's for a county government building. Statements by commissioners indicate the land is the proposed site of a new Wilkes County Office Building.
County Attorney Tony Triplett said Cothren approved the sales contract, which lists a closing date of May 27. Yates said the "pad ready," three-acre parcel, once part of the Northwestern Bank headquarters property, was preferred over any of the nearby undeveloped, county-owned Call property.
In a related matter that same night, the commissioners set a work session for 5 p.m. May 11 to consider "design-build" proposals for three capital projects in phases — constructing a new county office building, renovating the current county office building for the Wilkes Health Department and constructing an emergency services building on the Call property along Call Street, near Oakwoods Road. Friday is the deadline for design-build proposals from contractors.
Also under the budget amendment. $1 million goes to Wilkes Community College for its "Education Promise" initiative, which will provide two-year scholarships to WCC covering remaining net tuition and basic fees after eligible students receive federal or state grants, New Century Scholars and/or Alleghany Promise funds. Dr. Jeff Cox, WCC president, explained the program at the April 20 meeting, calling it a "game-changer" for the community.
Students must have lived in WCC's service area for at least a year to be eligible. They must have had at least a 2.0 grade point average in high school and maintain at least this at WCC. Cox said $6 million needs to be raised, in addition to $2.5 million already raised, it to be permanently endowed. Annual costs are projected at about $350,000.
Eddie Settle, chairman of the commissioners, said having a better educated workforce in Wilkes is vital for economic development.
The $5.16 million budget amendment also includes:
• allocations of $632,000 and $250,000 for the Wilkes County Schools, the school system's shares of Article 42 and Article 40 half-cent sales tax revenue respectively;
• transferring $1.5 million to the Wilkes County Airport Enterprise Fund. During the April 20 meeting, the commissioners unanimously approved a $1.32 million bid from Jefferson-based Carolina Grading & Utilities Inc. for installing a 125,000-gallon water storage tank and a booster pump station at the airport to improve fire protection. They also unanimously approved a contract paying Charlotte-based W.K. Dickson Co. $159,400 for construction administration and observation and geo-technical testing for the project. Unlike most Wilkes airport projects, no grant funds are involved;
• transferring $1.5 million to the Wilkes County Landfill capital reserve fund for closing landfill cells when they're filled.
When the county's 2020-21 budget was approved in May, it included a 24.5% drop in sales tax revenue due to the pandemic. This was later revised to an amount similar to sales tax revenue in 2019-20 when this revenue significantly increased instead of decreasing during the pandemic. This was attributed to Wilkes residents shopping at home and online more instead of spending money out of town, along with federal stimulus checks households received.
Keith Elmore was the only commissioner who asked a question or commented on the budget amendments. Elmore asked if all of the funds involved were sales tax revenue.
Elmore was told that they all involved sales tax revenue, except two that are in addition to the budget amendments that add up to about $5.16 million.
The other two total $1.04 million for the Wilkes Health Department, including $547,918 in COVID-19 funding from the state for COVID-19 testing and contact tracing, as well as supplies and equipment for COVID-19 patients. The remainder is $500,000 in Medicaid reimbursements for the Wilkes Dental Clinic.